About the company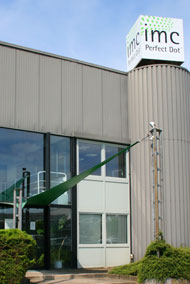 IMC GmbH – Marketing for the graphic industry – established 1970 in Frankfurt / Main, initially has had a different business concept in mind. But the time was not ready for such a general and global focus.
By a consequent change and adaption to meet new business demands, the company then was successfully active for many years as an international graphic arts supply house, offering a broad range of various consumables. In those years the company achieved an excellent reputation in the distribution of high quality printing blankets.
Since the acquisition of a majority share of IMC GmbH in 1994 by Meiji Rubber & Chemical Co., Ltd. (MRC), Tokyo/Japan the activities have been mainly concentrated on the marketing, service and distribution of our top brands Perfect Dot® and Ultra Dot®.
Through consistent and continuous development of our product range and the quality control, PERFECT DOT® and ULTRA DOT® are offering the modern offset printer a balanced range of high quality printing blankets for almost any offset printing application.