Calibrated underpacking sheets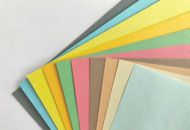 | | |
| --- | --- |
| Thickness | Colour |
| 0.075 mm | light blue |
| 0.100 mm | grain-coloured |
| 0.125 mm | light brown |
| 0.150 mm | brown |
| 0.175 mm | rose-coloured |
| 0.200 mm | green |
| 0.250 mm | golden |
| 0.300 mm | lemon-coloured |
| 0.400 mm | blue |
| 0.500 mm | grey |
User´s advantages:
avoids high dot gain
lowest tolerances / ISO standards
full impregnation prevents the penetration of humidity
anti-slip coating
colour coding system

An even contact pressure of the printing cylinder on the printing surface is, one of the absolutely decisive imperatives for an optimal result in offset printing technology. This will be ensured by using underpacking sheets of different thicknesses, manufactured according to ISO standards. For various reasons, standard paper grades are not suitable for these requirements.
These thicknesses move within a range of hundredths of millimetres between 0.075 and 0.5 mm. The colour coding system for the 10 different sheets - available in various dimensions - has two advantages: firstly, it makes the use of measuring tools completely unnecessary and secondly, it simplifies the selection of the right sheet avoiding mistakes and confusions.
An "anti-slip" property prevents shifting, while its special impregnation avoids penetration of humidity and swelling of the sheet. In addition to these advantages the calibration process precludes high dot gain for ensuring highest printing quality.
Beside the premium brand  marks-3zet we also can offer our own - competitively priced – private label PERFECT DOT UC. We are keen to receive your request!