PERFECT DOT® DL
Users´ advantages
Good dot sharpness
Full ink coverage
Good resistance to solvents
Reduced carton edge marks
"Allround" capabilities
ISEGA certified
Range of application
In conventional sheetfed: for paper and carton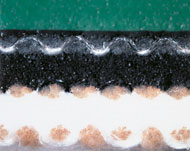 Cross cut of
PERFECT DOT® DL
PERFECT DOT DL is our proven all-round blanket for commercial and packaging
printing. It is ideally suited for all papers and cardboard boxes - even for very high grammages.
Therefore, it is particularly characterized by its robust design and the resistant
surface rubber, which significantly reduces the format edges that often occur.
Another advantage is the excellent lifetime, the usability in the food sector (ISEGA) and the good price-performance ratio.
Product data PERFECT DOT® DL
Surface roughness according to DIN 4768,
mechanical measuring system
Ra: 0.7 µm
Rz: 5.0 µm
Hardness according to DIN 53505
Top layer: 66 IRHD-micro
Total: 80 Shore-A
Thickness according to ISO 4593:1993: 1.95 mm
Tensile strength: >4,000 N/50 mm
Stretch according to ISO 12636-4.2
at 500 N/50 mm: 0.60 %
at 1,000 N/50 mm: 0.95 %
Compressibility according to ISO 12636-4.5
1st cycle: 7.5 %
5th cycle: 7.8 %
Printing pressure
at 0.10 mm impression: 90 N/cm2
at 0.20 mm impression: 185 N/cm2
Color of top layer: green
Surface: finest grinding