ULTRA DOT® TP
Users´ advantages
Good solids and halftones
High reduction of pressure marks (streaks)
Excellent smash resistance and recovery
Low gauge loss on cylinder
Extended lifetime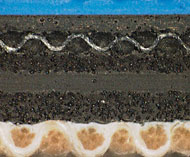 Cross cut of the 2-ply
ULTRA DOT® TP
Ultra Dot® TP – the most innovative blanket available today for offset presses – TP comprises of a 1.95 mm blanket, with two fabric layers and two compressible layers.
Ultra Dot® TP's unique construction enables the introduction of two compressible layers to produce optimum performance for the printing of good solids and the reduction of pressure lines which often occur with solids. With TP´s new design it is now possible to utilise Dual-Air-Technology without compromising either feature.
Extensive research led to the developmentof a blanket that employs two compressible layers and two fabric layers into one carcass.
The first compressible layer produces exceptional printing quality with solids and halftones while the second compressible layer reduces visible pressure lines and provides exceptional smash recovery leading to extended life time of the blanket. Ultra Dot® TP is suitable for printing on both paper (especially recycled paper) and carton.
Product data ULTRA DOT® TP
Surface roughness according to DIN 4768,
mechanical measuring system
Ra: 1.1 µm
Rz: 5.4 µm
Hardness according to DIN 53505
Top layer: 55 IRHD-micro
Total: 78 Shore-A
Thickness according to ISO 4593:1993: 1.95 mm
Tensile strength: >3,000 N/50 mm
Stretch according to ISO 12636-4.2
at 500 N/50 mm: 1.20 %
at 1,000 N/50 mm: 1.60 %
Compressibility according to ISO 12636-4.5
1st cycle: 7.8 %
5th cycle: 8.5 %
Printing pressure
at 0.10 mm impression: 95 N/cm2
at 0.20 mm impression: 152 N/cm2
Color of top layer: blue
Surface: finest grinding