PERFECT DOT® XL
Users´ advantages
Significant reduction of edges marking at frequent format changes
Excellent, even better sheet release (QR effect) and significantly less picking on the edges
Good swell and solvent resistance
Long lifetime, very robust
Very good dot sharpness
Excellent color transfer
Very good and even solids
ISEGA certified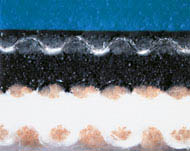 Cross cut of
PERFECT DOT® XL
This is a new development especially for large-format packaging printing on high-speed machines.
By improving the surface structure and adapting the rubber formulation to the requirements of modern, large-format packaging printers, it has been possible to significantly improve the sheet release and to drastically reduce the typical
"picking" on the blanket edges.
The excellent ink transfer properties, the optimal solid densities and the outstanding lifetime could be retained without restriction.
Product data PERFECT DOT®XL
Surface roughness according to DIN 4768,
mechanical measuring system
Ra: 1,4 µm
Rz: 5,5 µm
Hardness according to DIN 53505
Top layer: 65 IRHD-micro
Total: 83 Shore-A
Thickness according to ISO 4593:1993: 1.95 mm
Tensile strength: >4,000 N/50 mm
Stretch according to ISO 12636-4.2
at 500 N/50 mm: 0.69 %
at 1,000 N/50 mm: 1.05 %
Compressibility according to ISO 12636-4.5
1st cycle: 5.6 %
5th cycle: 6.4 %
Printing pressure
at 0.10 mm impression: 81 N/cm2
at 0.20 mm impression: 161 N/cm2
Color of top layer: blue
Surface: finest grinding