PERFECT DOT® QR
Users´ advantages
True reproduction of the original copy
Highest machine running speed
Minimized gauge loss
Extended lifetime
Excellent easy clean features
Suberb quick release properties
Reduced running temperature
Premium quality
Range of application
In conventional sheetfed: for paper and carton
Dual purpose, changing between conventl. and UV ink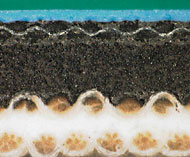 Cross cut of
PERFECT DOT® QR
PERFECT DOT® QR represents the further development of the well known PERFECT DOT® SR.
The improved quality contains an innovative compressible layer, manufactured utilising our new Dura-Elastic-Technology. With this feature the running temperature of the blankets is reduced resulting in enhanced inktransfer and dot reproduction with extended lifetime of the blanket.
The special surface grinding enables excellent sheet release, while the corresponding rubber mixture is an ideal solution for the changing use of conventional and UV inks.
In addition, the barrier layer within the double surface layer prevents the penetration of solvents and other chemicals thus reducing swelling.
Product data PERFECT DOT® QR
Surface roughness according to DIN 4768,
mechanical measuring system
Ra: 0.9 µm
Rz: 5.2 µm
Hardness according to DIN 53505
Top layer: 66 IRHD-micro
Total: 81 Shore-A
Thickness according to ISO 4593:1993: 1.95 mm
Tensile strength: >4,000 N/50 mm
Stretch according to ISO 12636-4.2
at 500 N/50 mm: 0.76 %
at 1,000 N/50 mm: 1.07 %
Compressibility according to ISO 12636-4.5
1st cycle: 7.0 %
5th cycle: 7.6 %
Printing pressure
at 0.10 mm impression: 100 N/cm2
at 0.20 mm impression: 180 N/cm2
Color of top layer: green
Surface: finest grinding