PERFECT DOT® DURO
Users´ advantages
Good solids
Excellent dot sharpness
High running speed
Reduced running temperature
Good quick release properties
Extended lifetime
Premium quality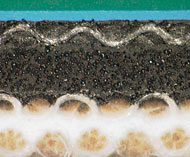 Cross cut of the
PERFECT DOT® DURO
PERFECT DOT® DURO – the premium quality for heatset offset presses – a 1.70 mm gauge blanket incorporates the new Dura-Elastic-Technology.
PERFECT DOT® DURO is designed to print on coated and LWC paper using high speed presses from 16- to 64- pages. The blanket in a thickness of 1.70 mm with three fabric layers contains a compressible layer manufactured using the Dura-Elastic-Technology, where the heat development in the press will be reduced.
The innovative design offers a totally new performance of the printed web and leads to a longer lifetime on the press.
Product data PERFECT DOT® DURO
Surface roughness according to DIN 4768,
mechanical measuring system
Ra: 1.6 µm
Rz: 7.3 µm
Hardness according to DIN 53505
Top layer: 62 IRHD-micro
Total: 83 Shore-A
Thickness according to ISO 4593:1993: 1.70 mm
Tensile strength: >4,000 N/50 mm
Stretch according to ISO 12636-4.2
at 500 N/50 mm: 0.60 %
at 1,000 N/50 mm: 0.95 %
Compressibility according to ISO 12636-4.5
1st cycle: 6.8 %
5th cycle: 7.1 %
Printing pressure
at 0.10 mm impression: 121 N/cm2
at 0.20 mm impression: 223 N/cm2
Color of top layer: green
Surface: finest grinding