PERFECT DOT® STRIP
Users´ advantages
Excellent varnish transfer
Even thicknesses
Precise sealed areas
Optimal varnish gloss on various substrates
Easy peel-off
Reduced varnish build-up
Long running periods
Relief depth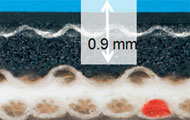 Cross cut of
PERFECT DOT® STRIP
PERFECT DOT® STRIP is a modern varnishing and spot varnishing blanket, which delivers excellent results using aqueous or UV (short runs) coatings. It offers the printer a very good varnish transfer with even thicknesses.
Due to its special top surface layer, it delivers as well an optimal varnish gloss on various substrates with precise sealed areas.
PERFECT DOT® STRIP has a perfect stripping relief, which surface is easy and quick to be peeled off for a fast and trouble-free preparation. The stencil depth of 0.9 mm reduces varnish build-up in the relief area for a cleaner profile and a longer running period.
It provides the user with a very good dimensional stability for reuse on repeating jobs and can be perfectly cut by using both, plotter or scalpel.
Product data PERFECT DOT® STRIP
Surface roughness according to DIN 4768,
mechanical measuring system
Ra: 0.9 µm
Rz: 4.0 µm
Hardness according to DIN 53505
Top layer: 58 IRHD-micro
Total: 78 Shore-A
Thickness according to ISO 4593:1993: 1.95 mm
Tensile strength: >4,000 N/50 mm
Stretch according to ISO 12636-4.2
at 500 N/50 mm: 0.66 %
at 1,000 N/50 mm: 1.03 %
Compressibility according to ISO 12636-4.5
1st cycle: 6.6 %
5th cycle: 7.1 %
Printing pressure
at 0.10 mm impression: 105 N/cm2
at 0.20 mm impression: 175 N/cm2
Color of top layer: blue
Surface: finest grinding
Relief depth: 0.9 mm