ULTRA DOT® ECO
Users´ advantages
Good solids and halftones
High reduction of pressure marks (streaks)
Excellent smash resistance
Minimized gauge loss
Extended lifetime
Value for money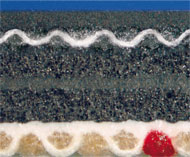 Cross cut of
ULTRA DOT® ECO
With the introduction of the new ULTRA DOT® ECO we have succeeded in making the innovative and successful concept of Dual-Air-Technology – with the characteristic two compressible layers – even more attractive.
ULTRA DOT® ECO obtains good printing results on coated and uncoated paper, carton, various recycled stocks and on metal decorating. The ground breaking design involving two compressible layers offers the printer good solids whilst simultaneously reducing streaks. Durability is also greatly extended. Low gauge loss, as a result of the special blanket design is an useful benefit for many customers.
ULTRA DOT® ECO provides users in the sheetfed printing as well as in metal decorating with a good quality printing blanket at an excellent price-performance ratio. Consequently it is the ideal, competitively priced introduction for new customers to our range of high quality printing blankets.
Product data ULTRA DOT® ECO
Surface roughness according to DIN 4768,
mechanical measuring system
Ra: 1.6 µm
Rz: 6.8 µm
Hardness according to DIN 53505
Top layer: 63 IRHD-micro
Total: 81 Shore-A
Thickness according to ISO 4593:1993: 1.95 mm
Tensile strength: > 3,000 N/50 mm
Stretch according to ISO 12636-4.2
at 500 N/50 mm: 1.30 %
at 1,000 N/50 mm: 1.77 %
Compressibility according to ISO 12636-4.5
1st cycle: 7.0 %
5th cycle: 7.5 %
Printing pressure
at 0.10 mm impression: 92 N/cm2
at 0.20 mm impression: 157 N/cm2
Color of top layer: blue
Surface: fine grinding